OB magicBox 3
The all in one MIDIcontrol for OB-SX, X and Xa
438,-€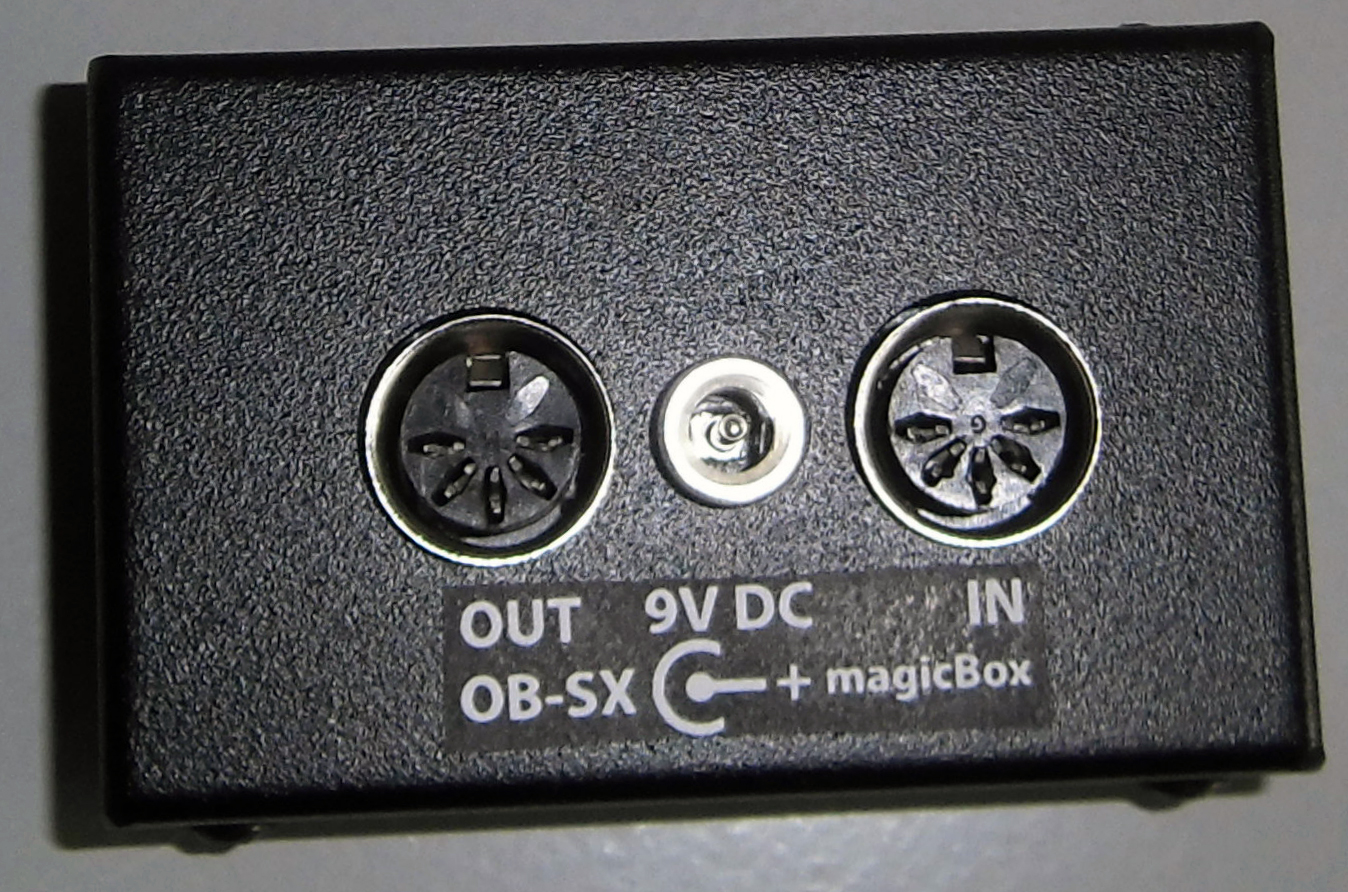 made in Germany by mLab.midisoft.de
Power Supply
This MIDI-Interface needs an external power supply (not included). The power supply should output 9V DC where the center pin = (+). If you don't like to use an external power supply, you can supply The magicBox from your Synthesizer by doing a simple modification.
Plug & Play
Installation is much easier than any other MIDI retrofit kit.
We leave your Oberheim synthesizer completely untouched.
Simply plug the magixBox into the Oberheim COMPUTER INTERFACE & play.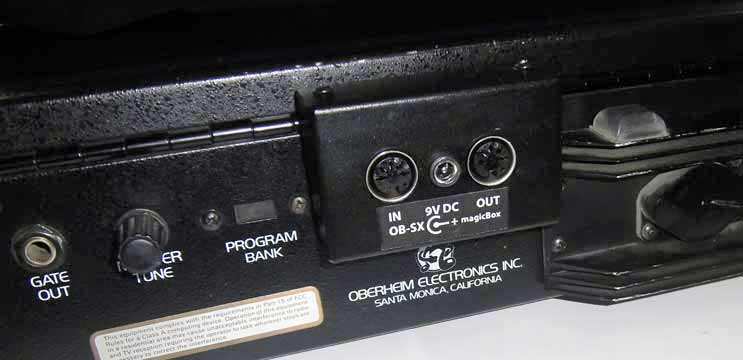 Everything under control
NoteNumber
ProgramChange
Modulation
PitchBend
RealTime access to all parameters
EDIT, COPY, PASTE, STORE
56 additional ROM presets
56 additional USER Memories,
SysEx dump and more.
MIDI IN to the Oberheim Synthesizer
NoteNumber
ProgramChange
Modulation
PitchBend
ControlChange
SysEx
MIDI OUT from the magicBox
SysEx
Parameter-Feedback
The Oberheim synthesizer has no MIDI OUT
1. MIDI SysEx dump
MIDI cc 107 (value 127) causes The magicBox to send a SysEx Dump of all 56 user memories to MIDI OUT. So you can backup your sounds. You can recover them by sending the SysEx file back to The magicBox. This will replace all of the 56 user memories automatically.
After a MIDI Program Change or a Program Load, the magicBox sends the current program parameter values to MIDI OUT. When a BCR2000 or another controller (which can process parameter feedback) receives such a message, It updates its encoder and shows the result with its LED bar graph. Now you know exactly where you are and you can visually edit your program in relation to the current settings. To avoid MIDI feedback loops with a BCR2000, use the Stand Alone-Mode S-3 by pressing EDIT & STORE at the same time. Now dial the left encoder in the top row until the display shows S-3. Then, press the EXIT button to complete the process.
Successfully tested MIDI controllers
Behringer BCR2000
DJ Techtools Midi Fighter Twister
Touch-OSC for iPad
TB-MIDI-Stuff for iPad
Other generic MIDI controllers should work, as long as they can handle ParameterFeedback.
Download all you need to setup your MIDI controller for the magic box versions OB-SX/ OB-X(a)
Download all you need to setup your MIDI controller for the new All in One magicBox3
BCR2000 Overlays, repectively Decals, are available here

How to Setup a BCR2000
Set your BCR2000 to receive MIDI data via the MIDI input.
Hold down the EDIT button and press the STORE button.
Use the first encoder in the top row to choose S-3.

Make sure your BCR has the correct SysEx ID by using the 5th rotary encoder in the top row
and set it to ID number 1.
At least press the EXIT button.

Now send the SysEx file to your BCR2000.
Successfully incoming SysEx data is shown in the display as a circular movement.
The BCR first saves the incoming data in a temporary memory area.
Before this data can be used, it must be saved in one of the 32 BCR2000 PRESETS.
In order to do this,
Press the STORE button, (the store LED blinks).

Use the PRESET cursor keys to select a preset location.

Press STORE again.
That's it.
User Memory management
Example Copy, Edit and Save movie
Use the encoder in the lower left to select a preset (1..56).
Use the encoder at the bottom right to select a user memory (1..56).
For example, load the preset No. 33 by dialing the encoder at the bottom left until the display shows 33.
Then press the LOAD button.
The preset No. 33 is now loaded and can be edited as required.
To save your changes in one of the 56 user memories, dial the encoder in the lower right to select a user memory location.
Then press the SAVE button.
If you are not using a BCR2000, please refer to the MIDIcontrol details below. This should help you configure other MIDI control devices.
---
OB-SX MIDIcontrol
The magicBox transforms your OBSX into a programmable and completely MIDI controlled Synthesizer.

OB-SX controls
CC# 06 VCF ATTACK
CC# 07 VCA ATTACK
CC# 08 VCF DECAY
CC# 09 VCA RELEASE
CC# 10 VCF FREQUENCY
CC# 11 OSC 2 DETUNE
CC# 12 LFO FREQUENCY
CC# 13 PORTAMENTO
CC# 14 VCA DECAY
CC# 15 VCF SUSTAIN
CC# 16 VCA SUSTAIN
CC# 17 VCF RELEASE
CC# 18 RESONANCE
CC# 19 VCF ENV AMOUNT
CC# 20 PULSE WIDTH
CC# 21 MODULATION
CC# 22 PWM
CC# 23 OSC 2 FREQUENCY
CC# 24 OSC 1 FREQUENCY
OB-SX switches
CC# 25 (ch1) OSC 2 FM
CC# 25 (ch2) VCF MOD
CC# 25 (ch3) OSC 1 WAVE
CC# 25 (ch4) OSC 2 WAVE
CC# 25 (ch5) LFO WAVE
CC# 25 (ch6) OSC 1 FM
CC# 26 (ch1) OSC 1 PWM
CC# 26 (ch2) OSC 2 PWM
CC# 26 (ch3) VCF TRACK
CC# 26 (ch4) OSC 2 HALF
CC# 26 (ch5) SYNC
CC# 26 (ch6) X-MOD
CC# 26 (ch7) UNISON
Additional controls
CC# 1 MIDI Mod Wheel
CC# 77 Mod Wheel Amount
CC# 79 Keyboard Mode Switch
CC# 85 Preset Encoder 1-56
CC# 86 Memory Encoder 1-56
CC# 87 LOAD Switch
CC# 88 SAVE Switch
CC# 107 DUMP Switch
CC# 120 (ch16) Number of Voices
CC# 120 (ch15) MIDI Channel 1-16
where 0 = OMNI MODE
Program change 1-112
PG 001-056 = Preset (1-56)
PG 057-112 = User-Memory (1-56)
Got an OB-SX with 56 presets and want your OB-SX to have your own presets?
We offer a special OB-SX preset EPROM image file service.
The fee is €80,-
Before placing your order, please make sure you can burn a 2708 EPROM.
Mail us your OB-SX magicBox *.syx file and we will send you back an OB-SX EPROM image file *.bin with your OB-SX sounds.
Please allow 2 days for us to process your EPROM image file.
Simply burn this image file into a blank 2708 EPROM and plug it into socket A32.
Now you have an OB-SX with your own presets.

---
OB-X MIDIcontrol
The MIDI interface for the last OBX revision with a 37-pin COMPUTER INTERFACE connector.



OBX controls
CC# 06 VCF RELEASE
CC# 07 VCA RELEASE
CC# 08 VCF SUSTAIN
CC# 09 VCA SUSTAIN
CC# 10 VCF DECAY
CC# 11 VCA DECAY
CC# 12 VCF ATTACK
CC# 13 VCA ATTACK
CC# 14 PULSE WIDTH
CC# 15 RESONANCE
CC# 16 VCF ENV AMOUNT
CC# 17 LFO RATE
CC# 18 MODULATION
CC# 19 PWM
CC# 20 PORTAMENTO
CC# 21 OSC 2 DETUNE
CC# 22 VCF FREQENCY
CC# 23 OSC 1 FREQUENCY
CC# 24 OSC 2 FREQUENCY
OBX switches
CC# 25 (ch3) OSC 2 FM
CC# 25 (ch4) VCF MOD
CC# 25 (ch5) UNISON
CC# 25 (ch6) LFO SINE
CC# 25 (ch7) LFO SQUARE
CC# 25 (LFO both off) S&H
CC# 25 (ch8) OSC 1 FM
CC# 26 (ch3) OSC 1 PWM
CC# 26 (ch4) OSC 2 PWM
CC# 26 (ch5) OSC 1 SAW
CC# 26 (ch6) OSC 2 SAW
CC# 26 (ch7) SYNC
CC# 26 (ch8) X-MOD
CC# 27 (ch3) VCF TRACK
CC# 27 (ch4) OSC 1 PULSE
CC# 27 (ch5) OSC 2 PULSE
CC# 27 (ch6) OSC 2 HALF
CC# 27 (ch7) NOISE-Low
CC# 27 (ch8) NOISE-High
Additional controls
CC# 1 MIDI Mod Wheel
CC# 77 Mod Wheel Amount
CC# 79 Keyboard Mode Switch
CC# 85 Preset Encoder 1-56
CC# 86 Memory Encoder 1-56
CC# 87 LOAD Switch
CC# 88 SAVE Switch
CC# 107 DUMP Switch
CC# 120 (ch16) Number of Voices
CC# 120 (ch15) MIDI Channel 1-16
where 0 = OMNI MODE
Program change 1-112
PG 001-056 = Preset (1-56)
PG 057-112 = User-Memory (1-56)




---
OB-Xa MIDIcontrol
This MIDI interface works with all original OB-Xa Synthesizers, but we recommend the latest Firmware (Rev C)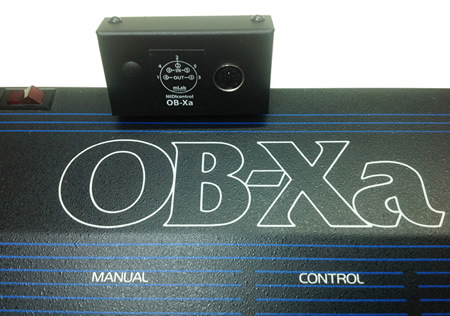 OB-Xa controls
CC# 06   VCF RELEASE
CC# 07   VCA RELEASE
CC# 08   VCF SUSTAIN
CC# 09   VCA SUSTAIN
CC# 10   VCF DECAY 
CC# 11   VCA DECAY
CC# 12   VCF ATTACK
CC# 13   VCA ATTACK
CC# 14   PULSE WIDTH 
CC# 15   RESONANCE
CC# 16   VCF ENV AMOUNT
CC# 17   LFO RATE
CC# 18   MODULATION
CC# 19   PWM
CC# 20   PORTAMENTO
CC# 21   OSC 2 DETUNE
CC# 22   VCF FREQENCY 
CC# 23   OSC 1 FREQUENCY
CC# 24   OSC 2 FREQUENCY
OB-Xa switches
CC# 25 (ch3) OSC 2 FM
CC# 25 (ch4) VCF MOD
CC# 25 (ch5) UNISON
CC# 25 (ch6) LFO SINE
CC# 25 (ch7) LFO SQUARE
CC# 25 (LFO both off) S&H
CC# 25 (ch8) OSC 1 FM
CC# 26 (ch3) OSC 1 PWM
CC# 26 (ch4) OSC 2 PWM
CC# 26 (ch5) OSC 1 SAW
CC# 26 (ch6) OSC 2 SAW
CC# 26 (ch7) SYNC
CC# 26 (ch8) F-ENV
CC# 27 (ch3) VCF TRACK
CC# 27 (ch4) OSC 1 PULSE
CC# 27 (ch5) OSC 2 PULSE
CC# 27 (ch6) OSC 2 HALF
CC# 27 (ch7) 4-POLE
CC# 27 (ch8) NOISE
Additional controls
CC# 1 MIDI Mod Wheel
CC# 77 Mod Wheel Amount
CC# 79 Keyboard Mode Switch
CC# 85 Preset Encoder 1-56
CC# 86 Memory Encoder 1-56
CC# 87 LOAD Switch
CC# 88 SAVE Switch
CC# 107 DUMP Switch
CC# 120 (ch16) Number of Voices
CC# 120 (ch15) MIDI Channel 1-16
where 0 = OMNI MODE
Program change 1-112
PG 001-056 = Preset (1-56)
PG 057-112 = User-Memory (1-56)